A transformational college access program awaits.
HOW TO APPLY
The HLLC program only admits students for the fall. To be considered for admission, you are required to do the following:
Submit a Rutgers University

Online Application

for Admissions.

Participate in a large group interview (email invitations are sent after December 1st)

Participate in a personal interview (invitation only)
HLLC Consideration Deadlines:



First-Year Applicants:
Apply to Rutgers University – Newark by December 1st
Transfer Applicants:
Apply to Rutgers University – Newark by February 1st
First-Year Students
High school-to-college transition support to help you connect academically and socially to RU-N

Personalized advisement & guidance to help you explore majors and career options

Close knit network of first-year scholars (Cohort)

Unique peer-leadership opportunities

Individualized academic, personal, financial, and career support

Deadline: December 1*
*Fall term applicants only
Transfer Student
College-to-college transition support to help you connect academically and socially to RU-N

Personalized advisement & guidance to help you be successful in your chosen major and career path

Close knit network of transfer scholars (Cohort)

 Unique peer-leadership opportunities

Individualized academic, personal, financial, and career support

Support services emphasizing graduation and career exploration

Early access to career development tools

Purposeful curriculum and programs aimed at the transfer experience

Deadline: February 1*

*Fall term applicants only who are completing an associates degree from a New Jersey county college
There are staggering numbers of exceptionally talented, critically minded, academically promising individuals who are experiencing real structural barriers to higher education.   As a nation, we are not sufficiently investing in our local talent; the change agents of tomorrow. At the HLLC, our commitment is to cultivating the innovation necessary to solve local and global issues. There is arguably no one better equipped to help solve these pressing public concerns than students who have firsthand experience of their impact. These students' keen insight and critical analysis, as a result of their experiences, make them invaluable assets to our campus community and to their fields of study.
Most students' first exposure to higher education is through community colleges.  As a result, the HLLC seeks to admit students from community colleges, GED programs, and high schools throughout Newark, greater Newark, and beyond.  We envision that admitting these students will significantly enhance their lives, and will immensely benefit our college community and the world. 
The HLLC looks at the admissions process a little differently than most university honors living-learning communities.  We begin by defining "honors" differently, looking much deeper into student potential than is possible through only blunt instruments such as standardized test scores. HLLC engages potential students in in-person interviews and group simulations to see how they employ multiple intelligences in collaborative problem solving. This process helps to reveal who students really are, what their talents are, and what they can bring to an incredibly diverse and challenging learning environment like Rutgers University – Newark.
By expanding the admissions process, the HLLC provides an opportunity for students to live and learn together, and offers an innovative curriculum focused on "Local Citizenship in a Global World" that honors a wide array of talents, skills, and knowledge. The HLLC aims to support the development of students to become thought leaders within their fields, positive collaborators within their communities, and change agents in our world.
Rutgers University-Newark, the anchor educational institution in and of New Jersey's largest city, is a leader in research and scholarship, fostering excellence at the intersection of academic and civic engagement. With an enrollment of more than 11,500 students, its undergraduate, graduate, professional, and joint degree programs span more than 100 areas of study within seven schools and colleges.
All students who apply to RU-N are invited to interview with HLLC.
Learn more about RU-N's admission process here
---

Open House 2020
Click here for the presentation shared during the Open House session.
BENEFITS
The Honors Living-Learning Community offers a variety of experiences designed to cultivate your personal, social, and academic growth. By engaging a broad base of faculty, staff, students, and external stakeholders with wide-ranging professional expertise, HLLC provides you a unique opportunity to diversify your skill sets and explore new areas of learning.
Scholarship:
The HLLC provides a "last dollar" residential scholarship. This scholarship will cover the cost of room and board after all federal, state, and internal/external scholarships/grants have been applied. The scholarship will cover four academic years (eight semesters) for first-year students and two academic years (four semesters) for transfer students. Exceptions to the above criteria may be approved by the Dean of the HLLC in consultation with the Executive Vice Chancellor.

All applicants are required to complete the Free Application for Federal Student Aid (FAFSA) annually for federal, state, and institutional aid assistance.
Rutgers Priority filing Dates:
Incoming Students:  December 1
Returning Students: January 15
You can file for FREE at www.fafsa.ed.gov. All candidates who file the FAFSA are automatically considered for all federal, state, and institutional funds for which they may be eligible to receive.
Curriculum:
The curriculum will engage you in existing RU-N collaborations in Newark and in the local-global connections of publicly engaged scholarship and education. HLLC's challenging curricular and co-curricular experiences will expand your learning beyond the classroom and integrate it with your daily campus and community life.
Visit HLLC curriculum overview here.
The HLLC also hosts specialized pathways that focus on specific academic disciplines. Visit our Specialized Pathways page to learn more.
The HLLC Experience:
Personalized academic mentoring and advisement

Interdisciplinary curriculum dedicated to your success

A close community of peers to enrich the college experience

Dynamic internships, research assistantships, and community engagement

International research and service opportunities

Opportunities for leadership and professional development on and off campus

Richly diverse experiences with individuals from many backgrounds
Inclusive by Design: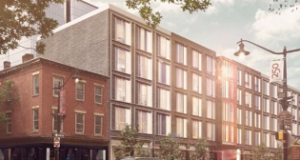 Currently, HLLC students live together in selected areas of RU-N's residence halls—an arrangement that significantly enhances opportunities for out-of-class learning and fostering relationships. As of 2019, HLLC students will be housed in a new, state-of-the-art facility designed specifically to support the HLLC's innovative academic and extracurricular practices, which aim to activate social, institutional, and cultural change and to facilitate engagement with the people and places of Newark, New Jersey's largest city and cultural capital.
Access and Affordability:
At Rutgers University–Newark, we are committed to offering a quality education at a great value. We are known for being an affordable option, and we also provide scholarships and financial aid. Learn more about your affordable options at https://admissions.newark.rutgers.edu/paying-for-college.
"We don't ask students to check their identities at the door, but to build on them by growing intellectually and developmentally in a community."

Marta Elena Esqulin, Associate Dean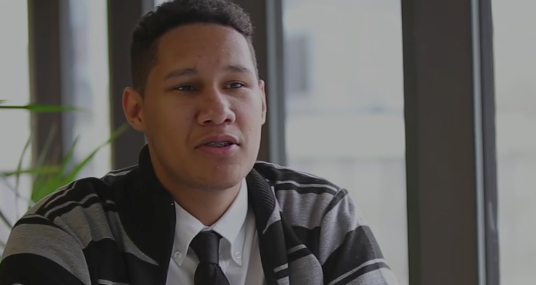 The Large Group Interview – My Experience
"It was actually fun…It's not typical, but the improv things we did and questions that were asked, I really enjoyed it. I got to know a couple more people and made some new friends."
–Israel Alford
What is the HLLC admissions process?
Unlike traditional criteria utilized to measure success within a college environment, this Rutgers honors program seeks to redefine merit and relies heavily on both academic indicators and additional criteria to assess a student 's ability to thrive. This process includes a two-phase interview process – a large group interview and an individual interview – and a written personal statement for students that have passed onto the second round.  
What is the purpose of the HLLC interview process?
The interview process measures how well students will adapt to, and persist within the HLLC environment, measure individual attributes that foster success throughout college, and identify students whose values and ideologies are consistent with the philosophy, mission, and goals of the HLLC.  
What is the format of the interviews?
The large group interview session will have about 200 students, separated into groups of ten students each. Each group will engage in four categories of various activities supervised by two evaluators.  This process usually takes about three hours.
What does the large group interview involve?
The interview involves various activities that are not only entertaining, but more importantly, measure how well students will acclimate to, and operate within the HLLC community, identify qualities and attributes that best indicate how well a student will function within a cohort, and measure how well a student's goals and values align with the mission of the HLLC.  
What does the individual interview involve?
The focus of the individual interview is to measure individual attributes that foster success throughout college and student potential, and allow evaluators to gain insight into the unique stories of each applicant, and the strengths and assets that each applicant will bring to the HLLC.