In a recent piece on Association of American Colleges & Universities Liberal Education magazine, Dean Timothy Eatman highlights HLLC Scholar, Vivian A. Peralta Santana:
Role Reversal: When Did a Student Teach You Something?
Despite all I learned after years in leadership roles at Imagining America—a robust network of publicly engaged scholars, artists, designers, humanists, and organizers—I still have to remind myself that the power of the arts, design, and humanities is for real. One of my students, Vivian A. Peralta Santana, a biology major destined to be a leading research scientist, opened my eyes afresh to how important art can be to sense-making. Vivian took the Local Citizenship in a Global World course, which asked students to make a creative learning artifact along with traditional assignments. Vivian's drawing prominently features a young woman drawing the balance of justice on a wall. Community members come out of the shadows and climb the woman's body. Lady Justice weeps as Uncle Sam whispers in her ear. To say the least, it is a visually and metaphorically dynamic expression. "Dean Eatman," Vivian told me, "I must admit I spent most of my time on the drawing as part of the final class project." Her art will soon be a mural in the new Honors Living-Learning Community building at Rutgers University–Newark.
—Timothy K. Eatman
Rutgers University–Newark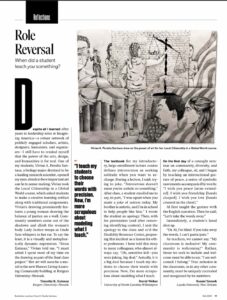 This article appeared in the AAC&U Liberal Education magazine, Fall 2020, Vol. 106, No. 3 issue.